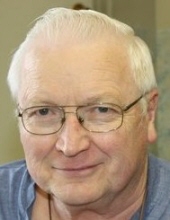 Obituary for Don Nilson
Don Nilson, 77, of Great Falls, passed away from natural causes surrounded by family on Tuesday, October 6, 2020.

Don was born on January 7, 1943, to Emanuel and Grace (Sannes) Nilson in Billings, MT. Don moved to Great Falls in 1954. He graduated from Great Falls High School in 1961. After graduation, he enlisted in the Marine Corps. He was stationed at Camp Pendleton where he met Maribeth Jeffers in 1963. Don and Maribeth observed their 57th anniversary on September 21, 2020. While in the Marines, he was stationed in Okinawa and visited the Philippines. He also floated off the coast of Vietnam. Before the war started, his ship was assigned to get out the American workers, but the boiler on his ship blew, and he never saw any combat. After his service ended, Don and Maribeth returned to Great Falls where they raised two daughters. He worked for the United States Postal Service for 40 years. Dad always needed to be active and retirement didn't suit him so after six months, he began working for The Center for Mental Health as an Adult Therapeutic Aid until 2018.

Don was an extremely loving and generous man to all he met. The term family man was made for Don, and his family was everything to him. He enjoyed bringing Maribeth back home to California to see her family. Her three brothers welcomed Don as one of their own. On all of their trips he would help Maribeth collect a rock from their destination. It continued on with D'Arla's husband, Tim with the numerous rock hunting trips they would take during the summer.

He was very supportive of his daughter's activities, whether it was volunteering for D'Arla with the Dance of Love while she was working with the Gift of Life Foundation during the 1990s, or helping Shawnda run her Farmer's Market stand and Pampered Chef business in the 2000's. He loved attending Shawnda's many musical performances and walking early in the morning on the River's Edge Trail with D'Arla. Every friend both girls had over the years knew their dad so well. His support extended to everyone with no limits. "Ski" and "Bruce" were well loved and could call dad their own. He was also an excellent cat grandpa to his daughter's many kitties.

Don was an excellent tipper to servers, because he loved food and loved to take care of those who took care of him at his favorite restaurants. His favorite restaurant was Maria's Mexican Restaurant, and he loved Maria's very much. If he could eat her food every day, he would. He also really loved to eat treats at Dairy Queen, and buy large amounts of Halloween candy which would usually last him until Easter. One of his favorite past times was playing jigsaw puzzles online which kept his mind very sharp. He liked to watch his favorite TV shows every night with Maribeth. Each night before bed he would play one Sudoku game on his phone.

He was very active in sports. He played basketball and baseball in school, and was playing softball into his 60s. He could play every position on the field but pitching. His batting average got better with age. His main positions were left center field and first base, but I thought he was the best catcher because he wasn't afraid to defend home plate with his body. Later in his softball life he played in three leagues, and if one of his teams were not playing in a weekend tournament he would go to the Multi Sports complex with his gear to be picked up if a team was short a player. Some of the teams he helped out couldn't believe how good he was when he was twice their age. Eventually he had to stop playing softball due to his health. He would've played forever if his body had allowed it.

He loved keeping stats on his softball teams, lotto numbers, and fantasy baseball and football where he would annihilate everyone in his family leagues. Even when his daughters got too busy and sick and tired of being beat all the time to continue with the fantasy leagues, he continued to play with other leagues on the ESPN app for fun.

Don is survived by his wife, Maribeth; daughters, D'Arla (Tim) Luinstra, and Shawnda Nilson, both of Great Falls; sisters, Marty Johnson of Hawthrone, NV and Jody Manning of Great Falls; brother, Les Nilson of Great Falls; sister-in-law, Jeanne Jeffers of Alhambra, CA; brother-in-law, Danny (Barbra) Jeffers of Westminster, CA; and numerous nieces and nephews. In addition to his parents, he was preceded in death by his sister, Bessie; brother, Robert Nilson; stepfather, Tim Hicks; and brothers- in-law, John Jeffers, Rich "Dick" Manning, and Max Jeffers.

It is Don's and his family's decision not to have a memorial service due to the pandemic. Memorials are suggested in his name to the Saint Martin De Porres Emilie Center (PO Box 141, Great Falls, MT 59403, 406-771-6695) or democrats.org.


Events
Event Information
Cremation has taken place.
Memorial Contribution
Emilie Center, St. Martin de Porres Mission
PO Box 141
Great Falls, MT 59403