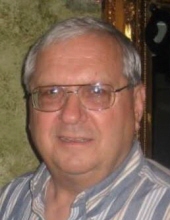 Obituary for Duane Michael Goodness
Duane Michael Goodness, 79, of Great Falls passed peacefully with his family by his side on June 23, 2020.
Duane was born to Ruby and Vincent Goodness on November 25, 1940, in the city of Orange, California. Shortly after graduating from Santa Ana High School, he followed his family to Great Falls when his father was transferred to Malmstrom AFB.
He enrolled in the College of Great Falls, and one night while "cruising the drag" he met the love of his life, Janice. Their nearly 58 years together was a blessing to their family and an example to all of what a marriage should be. They shared the good times and the troubles with the same boundless love and courage.
Duane had a passion for cars and worked in automotive service for over 20 years. He also supplemented the family income by flipping cars and later with his antique parts business. He could fix or build anything! He was a long time member and past president of the Skunk Wagon Antique Car Club where he and Janice went on many adventures with his restored 1947 Plymouth. He also worked as a custodian for Great Falls Public Schools before retiring.
Duane knew how to work hard, but he always made time for fun-playing in the dune buggy, riding motorcycles, and camping trips to Glacier Park. He loved exploring the beauty of Montana with his family. Duane had many hobbies throughout his life and met wonderful friends along the way. He took up flying Radio Controlled air planes before he was diagnosed with Parkinson's disease about 13 years ago.
With Janice by his side, they fought the disease together, like everything else they did in life.
Duane is survived by his wife, Janice; son, Scott and his wife, Sue Goodness; daughter, Tracy Goodness-Rice and her husband, Chris Rice; sister, Linda Gershon; and all of his nieces and nephews whom he dearly loved.
We will celebrate Duane's life with a picnic lunch at Oddfellows Park at 1:00 p.m. on Saturday, July 18, 2020. In lieu of flowers, donations are suggested to the Great Falls Parkinson's Support Group in C/O Sandi Dick (1200 32nd St S #25, Great Falls, MT 59405).