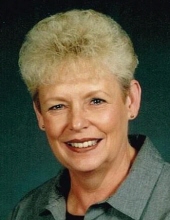 Obituary for Judith "Judy" Ann Deck
Anyone who knew Judith "Judy" Ann Denowh Deck felt her positive impact in the community, her generous spirit, and her genuine love of life and family. Judy passed away peacefully with family at her side on Saturday, March 7, 2020, in Great Falls, Montana, at the age of 73.

Judy was born on June 20, 1946, in Sidney, Montana, to Dorothy and George Denowh. As the oldest of three children, she often mothered her brother, George and sister, Paula, as they moved around the western United States for her father's military and retail career. She has always had a close relationship with her siblings and enjoyed the time they spent together.

When the family moved to Great Falls, Judy attended Great Falls High School and graduated in 1964. She was very involved and active in school, and met the love of her life, Jack Deck, while campaigning on stage for student council her senior year. Jack asked his friend to whistle at her for him, and the rest is history; a love story of 55 years. They married on November 28, 1964, in Great Falls.

Jack was her true love for life, her soulmate, and best friend. Their devotion stood the test of time and provided a loving foundation for their family. Jack romanced his "Judith Ann," supported her, humored her, and doted on her with his love until the last moment. They have been an amazing model of love and strength for all.

Her greatest pride came from her children, Randy, Jason, and Jayme. She was a fully engaged mom throughout her life, always involved and actively supporting her children. She was also a mother to many friends and students in the community due to her passion for being a mom. She was an avid worrier and called the police on multiple occasions to check on her kids when she could not reach them. Her lessons will live on in the lives of so many; to get a flu shot, wear a seatbelt, do not smoke, wear sunscreen, don't drink and drive, never tell a lie…and so many more.

Judy was a full-time wife and mother, but still found time to enjoy many jobs in retail and banking throughout her life. She also contributed to the community as a City Commissioner for four years, and then found her true passion and career in 1997 as a professional wedding and event planner. She loved planning beautiful weddings and anniversaries, and her clients became her family. She had an eye for detail and an organized spirit. She retired and sold her business, Romantic Weddings & Celebrations, in 2016.

Always making a difference in the community, Judy found time to volunteer in organizations like DUI Task Force, Alliance for Youth, and GFPS. She was most dedicated to organizations to stop underage drinking and driving under the influence. She was a founding member of Crimestoppers, Montanans Against Drunk Driving (MADD), Students Against Drunk Driving (SADD), and Students Taking a New Direction (STAND). Her work with the youth of Great Falls made a lasting impression on many generations.

Judy loved to travel and often made trips to their condo in Ocean Shores, Washington. She enjoyed trips to Europe, Mexico, Nashville, and Memphis. She especially enjoyed a recent family trip to Hawaii in December of 2018, with all her kids and grandkids. She would light up when her grandchildren were around. She made sure to be there for each birth and as many birthdays as possible.

She had always loved Elvis Presley; she cried when he died in 1977. In recent years, her admiration for Elvis grew and she dedicated an entire room of her home to her Elvis memorabilia. She loved every song and made sure her satellite radio in her car was always tuned to the Elvis channel. Judy also loved square dancing with Jack and her friends every Sunday evening. She loved to shop, wash laundry, attend church, and keep in touch with her friends near and far. She was an expert class reunion planner and created amazing reunions for the GFHS Class of 1964 for the past 45 years. She loved Mexican food for every meal, Pepsi, chocolate, ice cream, strawberry shortcake, and her mom's famous apple pie. She also made a mean chocolate cake with fudge frosting!
Judy left behind a legacy of love and caring for her family. She was diagnosed with cancer in 2019, and after six months of chemo treatments, she was truly fighting and winning. Due to her compromised immune system, a touch of pneumonia took her in the blink of an eye. She is now at peace with God.

Judy was preceded in death by her father, George Everrett Denowh and her mother, Dorothy Jean Hart Bowman. She is survived by her husband, Jack Wesley Deck; sons, Randal Wesley Deck and Jason Eric Deck; daughter, Jayme (Layne) Elizabeth Deck Weight; brother, George (Sandy) Allen Denowh; sister, Paula (Gary) Lynn Denowh Huffman; six grandchildren, Brooke, Shayla, Skylar, Payce, Tayo, and Nayve; and a large extended family of cousins, nieces, and nephews.

The funeral services have been postponed and the new date is to be determined.


Previous Events
Funeral Liturgy
Holy Spirit Catholic Church
201 44th Street South
Great Falls, MT 59405