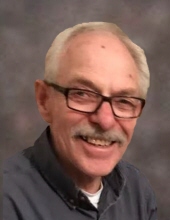 Obituary for Keith L. Loss
Keith L. Loss, 74, of Great Falls passed away suddenly from an accident on Monday, June 15, 2020.
He was born October 5, 1945, in Great Falls to Babe and Katie Loss. After graduating high school in Fairfield, MT, Keith served in the US Army from 1964-1967. He worked at Power Farmers Elevator from 1967-1973, and Smoot Honey Company from 1973-1996. He then began working at Central Assembly in Great Falls until the time of his passing.
He married the love of his life, Judy Forseth, in November of 1968, and enjoyed over 51 years of wedded bliss. He was incredibly devoted to his family, and loved his kids and grandkids with all he had.
In January 1976, Keith surrendered his life to Jesus Christ, and served him faithfully with all his heart the rest of his life. This transformation was what made him the man he was.
Keith was constantly learning how to do things, hence, he was always involved with a project. Woodworking was his passion. He loved using his hands to craft what was in his mind. He would frequently be working on a project, get stumped, and simply ask the Lord for help, and the Lord would speak the answer to him.
Keith is survived by his wife, Judy; sons, George of Bakersfield, CA, Leonce (Pam) of Two Rivers, WI, and Ken (Brenda) of Lewistown, MT; grandchildren, Stevie (Bobby) Ornelas of Bakersfield, CA, Brock Wilson of Oregon, Noelle Loss of Lewistown, MT, Chloe and Brody Loss of Two Rivers, WI; great-grandchildren, Jayce, Maxen, and Ellie of Bakersfield, CA; and brother, Robert (Janice) Loss of Fairfield, MT.
He was preceded in death by his twin brother, Kenneth; his parents; and sister, Kathy Loss, all of Fairfield, MT.
A funeral service will be held at 11:00 a.m. on Saturday, June 20, 2020, at Central Assembly of God.


Previous Events
Funeral Service
Central Assembly of God Church
2001 Central Ave.
Great Falls, MT 59401