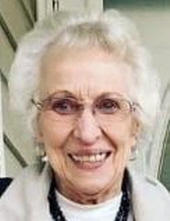 Obituary for Mary Anne Kahler
Mary Anne Kahler, 85, of Great Falls passed away on Sunday, August 2, 2020, of natural causes.
It was Mary Anne's wish to not have a service. A private family memorial will be held at the cemetery at a later date. Cremation has taken place under the direction of Schnider Funeral Home.
Mary Anne was born on October 5, 1934, in Laurel, Nebraska to Philemon and Goldie (Kardell) Reimers. She was raised in Laurel as one of 11 siblings, all of who have preceded her in death. She married Robert Bentz in 1954. They had two children, Rhonda Rangel and Scott Bentz. All three preceded her in death.
She remarried to John Kahler in 1989, and was married for 27 wonderful years until his passing in 2017. She has two step-daughters, Cindy Woods and Debra Deffinbaugh.
She is survived by son-in-law, Benjamin Rangel; step-daughters, Cindy (Michael) Woods and Debra (John) Deffinbaugh; 4 grandchildren; 5 great-grandchildren; and 6 step-grandchildren.