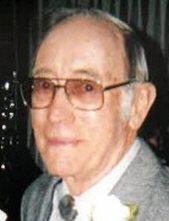 Obituary for Stephen Reinert Copenhaver
Stephen Reinert Copenhaver, successfully retired farmer, dies at 90.


His peaceful passing on February 6, 2021, left a legacy of love and an example for living and loving life. Steve is survived by his sister, Joyce (John) Rounds; sister-in-laws, Joyce (Wayne) Copenhaver, and Agnus (Art) Thomsheck; children, John Co-penhaver (Antonia "Toni" Cuvelier) of Humble,Texas, Susan Murphy (Rick Foreman) of Lincoln, MT, Bob (Alice) Copenhaver of Brady, MT, and Deb (Ron) McDunn of Lin-coln, MT; seven grandchildren; fifteen great-grandchildren; and many nieces and nephews. Steve was preceded in death by his parents, Keith and Martha (Fladstol) Copenhaver; wife, Nancy (Fockler) Copenhaver; siblings, Wayne Copenhaver, and Lois and Art Thomsheck.

Steve was born in Conrad, Montana on December 19,1930. He attended high school in Conrad and one year of college at Havre. It was here he met his bride to be, Nancy Fockler. After a year of college and the birth of their first child, they moved to a bunkhouse on Keith and Martha's farm in the "East Community" twenty miles from Brady. Steve and Nancy built their first home and raised their four children with much love. Over time, Steve took over half of his father's farm.

Steve was involved in local school boards, MT Farmers Union Cooperative, Tiber Water Board, Golden West Lutheran Church, and the Methodist Church of Lincoln. Steve was active with his family assisting with running the Brady O-Mok-See (horse games) competitions, group trail rides and Brady's field polo club. Horses were for fami-ly entertainment and he made sure every family member had at least one each. Dusty, Tana, Breezy, Flicka, Tony, Brownie, Saga and many others captured the family's hearts. Steve's dedication to provide this experience for his family and his grandchil-dren is remembered by all with great fondness.

Steve and Nan were also involved in projects for fun, creating floats for The Annual Whoop-Up Parade and performing together in the annual talent shows with mime rou-tines. For a few years, they were a part of a bowling team. Through all the experiences of nature and farm life, they ensured a family vacation to Flathead Lake and Lake McDonald every year, music lessons for all the kids, and support for all their school ac-tivities and summer camps.

After hauling water to a cistern for his entire life, Steve and his brother, Wayne, were early to serve on, and Steve to chair for many years, the Tiber Water Board from the 1970s through early 2000s. This involvement with the water board, oversaw an exten-sive water pipeline brought to several communities in North Central Montana.

One by one the kids grew and left home except their son, Bob. After college, Bob came home to work with Steve on the farm learning and enjoying their time together. Steve could turn homemade into handmade on many levels. After nineteen years, the farm was leased to Bob and Alice allowing Steve and Nancy to retire to Lincoln, and for Steve to build a beautiful second new home, with love for his bride, in 1996. The com-pany of new and old friends alike were enjoyed during their twenty-five years of retire-ment in Lincoln, Montana. Daughters Sue and Deb and their families enjoyed living near and sharing many trips and everyday time with their dad. There was still a need for a snowplow but now they were surrounded by mountains and trees. Nancy and Steve took extended excursions together every fall to the Southwest. Nancy, Steve's wife of 67 years, went home in 2018.

Along with other parishioners, Steve was instrumental in the construction of the Methodist Church in Lincoln. He was unafraid of heights and lead the crew with insight and humor throughout its construction. He was a builder at heart. Steve was known for ringing the church bell for services at this church. When the Lord finally called Steve home, family are certain he rang the church bell all the way into Jesus' arms. Well Done Good and Faithful Servant!

Steve's way to give love was by doing things for others. He was always the calm within the storm. Now, he has crossed The Great Divide and we will all miss his humor, his love for life and others, and the example he set to persevere and have fun. Happy Trails, Dad! We will miss you.