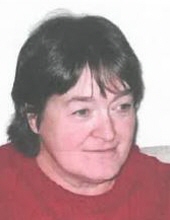 Obituary for Vicki Mayree Kirby
Vicki Mayree (Rose) Kirby, 68, beloved wife, mother, and grandmother passed away on June 11, 2020, of natural causes.
Vicki was born to Crynus "Slim" Rose and Ann Carter in Shelby, Montana on August 22, 1951. She was the second oldest of 5 kids. Growing up, Vicki loved riding horses and hanging out with friends in the Flathead Valley. She also loved spending time with family. She graduated from Columbia Falls High School in 1968.
She met the love of her life, Robert "Bob" Kirby, in 1971, and the two married on December 27, 1972, in Columbia Falls, Montana. They were married for 40 years and had 3 children, Robert "Rob", Samaria, and Traci.
Vicki was a stay at home mom for many years, but during this time she lived in Denver, CO, Hungry Horse, MT, Bozeman, MT, Belt, MT, Stanford, MT, Cut Bank, MT, and Brady, MT. She worked for the Cut Bank School District and Cut Bank Sr. Center as a cook and she also worked at Jan Bar making hats and jackets, but most of all she helped on the farm. She also helped take care of her nieces, nephews, and grandkids over the years. She loved spending time with her grandkids and watching them grow into young adults.
Vicki loved volunteering with the 4-H program. She was a leader for 13 years and loved watching her kids show their animals and projects at the fair. She met lots of new people through 4-H over the years and enjoyed all the new adventures like the Alberta 4-H Conference and traveling to Maine.
Her love for Westerns and many other shows have rubbed off onto her grandkids, along with her love for reading, knitting, and sewing.
She is survived by her mother, Ann Carter of Great Falls; son, Robert "Rob" Kirby of Great Falls; daughters, Samaria Kirby and Traci Kirby both of Great Falls; brother, Gordon Rose of Coram; sisters, Julia Hamm of Great Falls and Alecia Schmidt (Jeff) of Corder, MO; granddaughter, Victoria Kirby of Great Falls; grandsons, Cody Kirby of Great Falls and Zachary Kirby of Culbertson; many nieces; nephews; and many great-nieces/nephews.
She was preceded in death by her husband, Robert "Bob" Kirby; father, Crynus "Slim" Rose; step-father, Clarence Carter; and brothers, Daniel Rose and Donald Rose.