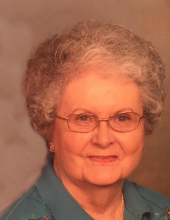 Obituary for Nancy C. Copenhaver
Nancy C. (Fockler) Copenhaver, 86, of Lincoln, passed away February 1, 2018 at Peace Hospice in Great Falls.

Nancy was born in Hilo, Hawaii to Alice and Edward Fockler on July 6, 1931. She was raised in the Flathead Lake area and graduated Big Fork High School in 1949.

On a blind date in college in Havre, Montana, she met Stephen Copenhaver. On July 16, 1950 at the age of 19, they got married in a beautiful lawn wedding in the mountains.

Nancy and Stephen moved to the farm east of Brady, Montana, which had no electricity, no running water, no indoor plumbing and rattlesnakes. It was quite a challenge. They had four children John, Susan, Robert, and Debra.

Music filled the house with trumpets, piano, organ, and guitar. Bridge in the winter and farm work and gardening in the summer, trips to the Grand Canyon, Bryce, Zion and many places in the southwest with many pictures taken filled their fall until retirement in 1995, where they went back to the mountains and built a beautiful home with a covered deck outside of Lincoln, Montana. Visiting with family and friends while sitting on the swing on the deck, was a great pleasure. Nancy loved watching all the birds, it was a photographic hobby for her. A fox peaked in the living room window and a black bear stood looking in the back door. Nancy's cat, Holly, loved to play with deer. Life was good in Lincoln.

She was very active in the Lincoln Community United Methodist Church, becoming a lay minister. Her faith was a comfort for her.

Nancy is survived by her husband of 67 years, Stephen Copenhaver of Lincoln, MT; children John Copenhaver of Houston, TX, Susan Murphy of Lincoln, MT, Bob (Alice) Copenhaver of Brady, MT and Deb (Ron) McDunn of Lincoln, MT; seven grandchildren; and sixteen great-grandchildren.

She was preceded in death by her parents.

A memorial service will be held on Sunday, February 11, 2018 at 11:00 a.m. at Lincoln Community United Methodist Church in Lincoln, Montana.

Condolences for the family may be shared online at www.SchniderFuneralHome.com.
Previous Events
Memorial Service
Lincoln Community United Methodist Church
104 8th Ave
Lincoln, Montana 59639