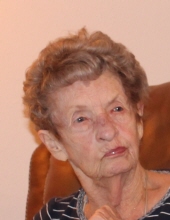 Obituary for Louise Marie (Belknap) Zook
The earth lost a beautiful soul with the passing of our wonderful mother, Louise Marie (Belknap) Zook on February 3, 2018 at age 87.

Louise was born on March 3, 1930 in Polson, MT. Raised as a rancher's daughter, she lived life with kindness and grace. She married her high school sweetheart, Don Zook (deceased) and they had five daughters, Linda (Darrell) Peterson, Bette Zook, Donna (Terry) Campbell, Joyce (Mike Potter) Thares, and Carol (Brian) Boettcher.

She loved to play bridge and also played a mean game of cribbage. If anything broke, she would tear it apart and figure out how to fix it before calling a repair service. As kids, our mom was the neighborhood first-aid station to fix cuts and bruises. Mom was always there for us.

Louise leaves behind her only sister, Jane (Paul) Butkay; 6 grandchildren; 7 great-grandchildren; and her best friend Marcia Sandry Kapelke.

Per her request, no services are planned.

Condolences for the family may be posted at www.schniderfuneralhome.com.