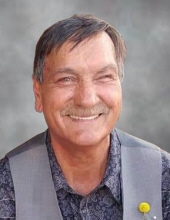 Obituary for William "Bill" Lloyd Dess
William "Bill" Lloyd Dess joined our Lord during the early morning hours on Wednesday, March 7, 2018. He passed away peacefully in his sleep after a long battle with cancer.

A memorial service will be held Friday, March 9, 2018 at 2:00 p.m. at Hillcrest Lawn Memorial Chapel. Schnider Funeral Home is handling the arrangements.

Bill was born in Lewistown, Montana on February 22, 1952 to James and Rosemary Dess. He graduated from the Montana Deaf and Blind School and among various jobs, was employed for 24 years as a printer at World Wide Press.

He was married to Crystal Ginnaty in 1980 and they had three children.

Bill enjoyed the outdoors and fishing the Missouri River. In his younger years, he participated in various local sports leagues. He was quick to lend a hand.

He was preceded in death by his parents, James and Rosemary; and six siblings.

Bill is survived by his wife, Crystal; six siblings, Carol, David, Wes, Tom, Mike, and April; three children, Billy (Michelle) Dess of Billings, Casey (Mandy) Dess of Great Falls, and Kallie (Jerry) Collins of Pendroy; and six grandchildren whom he loved and were a great joy in his life.

He will be dearly missed by his family and friends.
Previous Events
Memorial Service
Hillcrest Lawn Memorial Chapel
1410 13th Street South
Great Falls, MT 59405