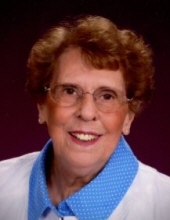 Obituary for Nancy Elizabeth Thomas
Nancy Thomas, 88 years young, passed away on Sunday, November 15, 2020.

Nancy was born March 8, 1932, in La Crosse, Wisconsin to Louise and Ervin Ebentier. She was the middle child of 3 daughters. She grew up in Holmen, Wisconsin and went on to attend The College of Saint Teresa where she graduated with an associate's degree in nursing.

Nancy met Jack Thomas while working at the Mayo Clinic in Rochester, Minnesota. They were married soon after in 1956 in Onalaska, Wisconsin. Jack's military career took them to Whiteman Air Force Base where they started their family that grew to seven boys, and then, finally, to Malmstrom Air Force Base where Jack retired.

Nancy's working life started as an LPN and ended as a nurse's aide at the Columbus Hospital. You would often find her working in her yard gardening or shopping. She loved visiting, camping, bowling, and being the household referee for her seven boys. She had a special place in her heart for animals, especially dogs, except maybe not for the rabbits that would eat her flowers.

She did volunteer work at Holy Spirit Catholic Parish and would attend mass daily, one day for each son. She also had a special devotion to Mary and would pray the rosary daily.

Preceding her in death were her parents, Lois and Ervin Ebentier; husband Jack; son, Bryon (Lori); and numerous aunts and uncles. Survivors include sisters, Lois Powers and Mary Karen Peters; sons, John (Colleen), Mark (Lois), Jim (Julie), Bruce (Amy), Pat (Anne), and Kris; nine grandchildren; and fifteen great-grandchildren.

There will be a vigil at Holy Spirit Catholic Church on Thursday, November 19, 2020, at 6:30 p.m and a funeral liturgy on Friday, November 20, 2020, at 11:00 a.m. Both services will be held at Holy Spirit Catholic Church.

In lieu of flowers, donations can be given to the Veterans of Foreign Wars, Disabled American Veterans or Holy Spirit Catholic Church.


Previous Events
Vigil Service
Holy Spirit Catholic Church
201 44th Street South
Great Falls, MT 59405
Funeral Liturgy
Holy Spirit Catholic Church
201 44th Street South
Great Falls, MT 59405