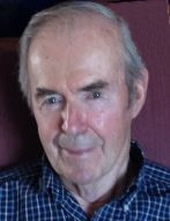 Obituary for John Everett Bumgarner
John Everett Bumgarner, 87 of Great Falls, passed away on July 26, 2020. No services will be held at this time.
Everett was born to Gena and Clarence Bumgarner in Great Falls, Montana on October 14, 1932. He was the youngest of five children and was very fond of his siblings, Barbara, Eleanor, Russell, and Shirley. Everett attended all his school years in Belt, Montana and graduated from high school in 1950. Upon graduation he was drafted to the United States Army and served from 1952 to 1954, in the Korean War.
Everett was working on the family farm with his father and brother, Russell, when he met Vernelda Hedrick, at a dance in Raynesford, and then took her to dinner at the Black Diamond Cafe in Belt. Seventeen months later they married in Stanford, on June 10, 1956. Everett and Vernelda built a life farming the land, raising cattle and pigs.
The Bible, being Everett's favorite book, was his life guide. He lived Philippians 2:3, value others above yourself: taking time to visit in care facilities, singing in the church choir and at special events. He was instrumental in the foundation of Belt Community Church, and served in every capacity he was needed in. Driving one of his restored vehicles in parades was also his pleasure, whether it be the orange Case tractor, the red Diamond T, or the yellow Rambler, which he named, "The Banana." He supported his children and grandchildren in their athletic and musical endeavors, and sent them off time and again with, "Lord bless you."
As a father, grandfather, and great grandfather, Everett taught by example. Things weren't always easy or smooth, but to his children he could do everything; from fixing fence to anything mechanical, teaching farming and ranching skills, a strong work ethic, and the value of family.
Everett and Vernelda have a legacy of six married children, 14 grandchildren, and 11 great grandchildren (following in parenthesis). John being the oldest son, married to Melinda, their sons, Aaron and Jordan, Jordan proceeded his grandpa to Heaven, Greg and Cindy, their children, Zachary, Skye, Amy and Sam Leritz, (Claire, Carson, Madelyn and Jackson), Marc and Melinda and their children, Rachel and Wes Hocevar, (Kamden and Addilyn), Emily and Evan Derks, (Kelby and Callen), Karl and Wendy and their children, Casey and April Schenk, (Nathan and Cameron), Kelley Schenk and Ryan Lenz, (Wendell), Jennifer and Ron Shaneybrook and their children, Josh and Andrea, and James and Lori and their children, Hattie, Hans, Holter and Haris.
Memorials in Everett's honor may be given to Peace Hospice. Thank you for your care, friendship, and love.