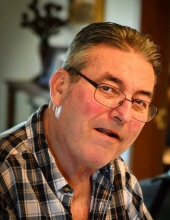 Obituary for Joseph "Joe" Leonard Horner
Joseph "Joe" Leonard Horner, 75, of Great Falls, passed away on Friday, July 31, 2020.

Joe was born to Joseph E. Horner and Virgina M. (Lambkin) Horner on August 16, 1944, in Helena, Montana. He grew up in Lincoln and later lived in Nevada City, California. After graduating from Nevada City High School, he returned to Montana. It was then that Joe met the love of his life, Sharon Sutherland in Lincoln. They eloped in Coeur d' Alene, Idaho after a short courtship and then started a family in Great Falls. He was a gifted athlete who gave up multiple football scholarships in order to pursue a life with Sharon. Without regret, Joe and Sharon began their own construction business and worked together for more than forty years. Joe was a hard-working man with grit and integrity. There was not a piece of equipment that he did not master. His only problem was not enough hours in each day.

He was loyal to his family and friends to the very end. Joe was a bit of a "Renaissance Man," as he had a lot of atypical interests that he developed over the span of his lifetime. He loved Luciano Pavarotti and the performances of the ThreeTenors, in fact, Sharon surprised him with a live concert in Portland, Oregon where he had front row seats to see Pavarotti perform. We often heard dad plugging away on a piece of equipment with the song "O sole Mio" blasting in the background. Additionally, he was full of fantastic stories, and loved to entertain his family and friends with some of the wildest tales ever imagined. He was passionate about his little red corvette and the prospect of restoring vintage automobiles. He was truly a "Man's Man."

Most importantly, Joe loved his family, especially his children and grandchildren. He enjoyed all of their sporting events, spending time at the family cabin in Lincoln, and being outdoors in Montana. He finally joined his sweetheart Sharon, and we are sure she got after him for taking so long to get there! He suffered a brain injury in 2007, and from that point on, his health continued to decline. Joe was a devoted son, husband, father, brother, uncle, cousin, grandpa, and friend. We will never forget the legacy you created "Big Ole Papa Joe."

Joe is survived by his mother, Virginia Horner; daughter, Brenda (John) Horner Vehrs; son, Joseph (Glenda) Horner Jr.; brothers, Mike (Patty) Horner, David (Kelly) Horner, and Stuart (Christa) Horner; sister-in-law, Peggy (Larry) Johnson; 8 grandchildren, Joey Horner, Josh Horner, Paige (Ray) Morgan, Madison (Greyson) Pasco, Sadie (Shandon) Bilbrey, Tayler (Tyler Waite) Held, Grant Hudspeth, and Jacob Horner; 4 great-grandchildren, Elenya Grace, Claire Ray, Kohlyton, and Brycie Charlie; 5 nephews, Michael Jamal (Kim Blevins) Horner, Larry (Alice Schultz) Johnson Jr., David Horner Jr., Matt (Katie) Horner, and Sam (Heidi) Williamson.

He was preceded in death by his wife, Sharon Horner; father, Joseph E. Horner; and nephew, Jack Horner.

A private celebration of life will be held in Lincoln, Montana at the Horner family cabin. Condolences for the family may be shared online at www.SchniderFuneralHome.com.


Events