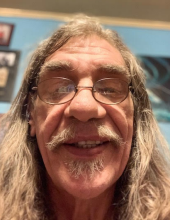 Obituary for Robert Wayne Gorham
Robert Wayne Gorham of Chester, MT passed away at 8:27pm on January 03, 2021. The cause of death was determined to be liver failure and complications from COPD. There are no plans for a celebration of life at this time.

Robert was born to Carol Gorham and Henry Cooper Bell, III on October 31, 1953. Robert was a member of the Army and served in the Vietnam War. For many years, he was employed by the railroad. He developed a knack for fixing many things including timepieces and guitars. As with many of his areas of expertise, Robert also taught himself to play the guitar, and had the opportunity to share a moment with Jimi Hendrix. Robert was engrossed in the counter-culture movements of the late 60s and early 70s. This was, of course, after he had already served his country in Vietnam. Fishing, panning for gold, and other outdoor activities shaped his varied interests.

Family was important to Robert. He is survived by his wife, Emily; daughter, Nicole; sons, Tyler and John; and many grandchildren and great-granchildren. He was preceded in death by his son, Aaron and his mother, Carol Gorham.

Robert believed that for others, you could either feed them or make them laugh. Robert did both at the same time, with ease. Nobody really knows what Robert will do in heaven, because he is so multi-talented. He will be sorely missed.