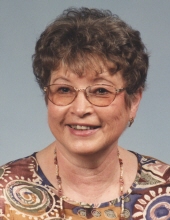 Obituary for Shirley Mae McDonald
Shirley Mae Richardson McDonald was born to William Edgar and Leona Gertrude (Wheeler) Richardson on September 27, 1935, in Grenora, North Dakota. She was the eldest of three daughters.

Shirley went to school in Grenora, was in Girl Scouts, choir, band, and graduated May 27, 1953. In the fall, she went to her cousins' in Great Falls and got a job at Crane Company Plumbing and Heating as a receptionist. Later she worked at IFB Leasing, then after that, she worked at Great Falls Government Employees Credit Union, now known as Russell Country Federal Credit Union, for 9 years and retired on August 2, 1996.

In July of 1954, she met her husband, Don McDonald on a blind date. They were married on February 5, 1955. They adopted their daughter, Sandra Cathleen in October of 1963, and son, William Edward "Bill" in August of 1966.

Shirley loved playing pinochle, and enjoyed having card parties. She also played Sequence with her grandchildren. The children loved beating her in it too.

She and Dan also loved to go dancing.

Shirley was very active in the West Side United Methodist Church since February 10, 1969. She was a Sunday school teacher, was involved in various committees, and sang in choir.

She is survived by her husband, Don; her two children, Sandra (Robyn) Bushard and their children, Preston, Christopher, Brandon (Jaimie), Stephen (Sarah) and Bethanni, Jayden, Destiny, Devin, Mikayla, Zachary, David, and William "Bill" (Susan) and their son, Nathan; two sisters, Barbara Reynolds and Myrna Sanderson; and 7 great-granddaughters and 1 great-grandson.

Shirley was preceded in death by her parents, Ed and Leona Richardson and brothers-in-law, Norman Sanderson and Oren Reynolds.

There will be a memorial service at West Side United Methodist Church on Tuesday, November 26, 2019, at 11:00 a.m.


Previous Events
Memorial Service
West Side United Methodist Church
726 Central Avenue West
Great Falls, MT 59404
Reception at church following service.