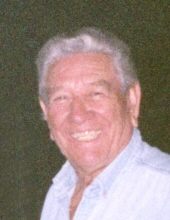 Obituary for Zack "John" Sanchez
Zacarias Benavidez Sanchez, 89, AKA: John Sanchez and Zack Sanchez passed away Thursday, March 1, 2018.

A celebration of life will be held Saturday, March 10, 2018 at the Northwest Center, 2201 NW Bypass from 1:00 p.m. to 4:00p.m.

Zacarias was born in Ensenada, New Mexico on January 9, 1929 to Asencion Benavidez and Juan Sanchez. He was the middle child of 26 children. Growing up during the depression years, times were hard and he had to leave school at a young age to find work. He ended up as a professional painter which he did for 40+ years. He also was in the military where he served in the Korean War.

His trade took him across the northwest where he ended up in Glasgow, MT, where he met a school teacher from Wolf Point, who would become his 2nd wife and the love of his life, Geraldine Welch. They were married for 60 years. They had 2 children, John Sanchez (Kaylene) and Linda Sanchez-Brambley (Nelson). These two children gave them 5 grandchildren, Michael, Kenneth, Brendon (Taylor), Kaitlyn (Trevor) and Zachary.

Zacarias had 3 other children, Sandra (Sanchez) Taylor, Debbie Sanchez, and Teresa (Sanchez) Bernal, and these grandchildren Anna, Alex, Veronica, Gilbert and Joseph, along with many great grandchildren, and great-great grandchildren.

Zacarias had been involved with the Catholic Church from an early age of 5 as an alter boy to later in life. He had a giving heart for family and friends.

He is preceded in death by his parents, Asencion Benavides and Juan Sanchez; daughters Sandra (Sanchez) Taylor and Teresa (Sanchez) Bernal; and some brothers and sisters.

His friendly smile will be missed by family and friends.

Memorials in his name can be made to the Great Falls Animal Shelter, 1010 25th Avenue NE, Great Falls, MT, 59404.
Previous Events
Celebration of Life
Northwest Center
2201 NW Bypass
Great Falls, MT 59404
Memorial Contribution