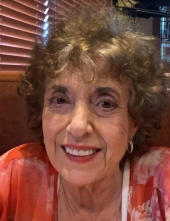 Obituary for Arleen Marian Heintzelman
Our beautiful, strong, and amazing mom, Arleen, passed away on the morning of November 19, 2020.

The daughter of Harry and Queenie, she was born in England and raised during World War II. She moved to America with her first husband, Ron (deceased). They had two sons together, both deceased, Gary (May 2020) and Regan (1970 age 5).

Our mom married our father, Ken. However, they later divorced after nearly 25 years of marriage.

In 1969, Arleen earned her dual citizenship in the United States. She was very proud of this accomplishment and often professed she knew more about the United States than we did.

She had many joys in life and went on to accomplish many things. She thoroughly enjoyed playing duplicate bridge and loved her bridge club family. She played regularly in the local bridge club, at regional tournaments, and even online. She often won and enjoyed seeing her name in the paper. She enjoyed helping others and always encouraged new players to learn. She eventually became a Ruby Life Master. This was quite an accomplishment.

One of her greatest joys in life was the theater. She acted in numerous plays, commercials, and even had an appearance on General Hospital (her favorite soap opera). Just last year, she got to meet members of the cast and they sang her Happy Birthday on her 80th birthday. She enjoyed being a dialect coach for local plays, helping others learn a British accent. She was also a Special Projects Coordinator for the University of Great Falls, focused on the theatre department. She loved that job and brought a fresh perspective and gallons of paint to that entire department.

She is also a published author publishing "A Week in London on a Flumpence-Seeing London on a Shoestring." She was also working on a second book, an autobiography. She enjoyed traveling, a special meal, seeing new things, and looking and listening to the ocean.

Her greatest joy in life was her kids and grandkids. She was so proud of each and every one of us. Her favorite youngest daughter, Char (Dave) and their two kids, Gabe and Spencer; and her favorite youngest son, Mark (Julie) and their two kids, Blake and Ava Arleen were the light of her life. Known as Nana she lived for the next call, text, or visit.

Arleen is the toughest lady we know. During the last two years, she battled cancer eventually, losing the battle due to a complication. Given six months to live, she lived exactly two years. Recently given three days to live, she lived seven. She was a fighter. We are so proud of you mom, "mum." She passed away peacefully with her kids by her side, holding her hands, and loving her every second of the way.

"Mom/Nana, we know you are at peace now. There are no more needles, no more being a pin cushion, no more prodding, no more chemo bags, no more pain. Until we see you again, we love you."

Our special thanks go to the Sletten Cancer Institute and our friends on the Oncology floor at Benefis who welcomed us with open arms while we took up our own residence over the course of the last week. Your love and compassion are deeply appreciated and we are eternally grateful.

Very special thanks go to her dear friends Kelly, Donna, Kristin, Diane, Henry, her gym partners, her bridge community, along with her wonderful neighbors that kept a watchful and caring eye on her when no family was able to be present.