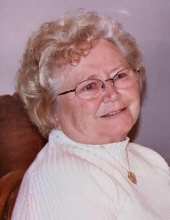 Obituary for Betty J. Liggett
Betty Robinson Liggett, 86, devoted mother, registered nurse, and co-founding owner of Liggett Construction of Great Falls, left us to be with her loved ones in Heaven early on Friday, November 22, 2019.
A vigil service will be held at 6:30 p.m. on Tuesday, December 3, 2019, at Hillcrest Lawn Memorial Chapel. A funeral liturgy will be held at 11:00 a.m. on Wednesday, December 4, 2019, at Our Lady of Lourdes, with burial at Highland Cemetery to follow. Schnider Funeral Home is handling arrangements.

Betty was born July 29, 1933, in Helena, Montana to Ray and Agnes Robinson. Her family moved when she was young to the family dairy farm, Jersey Gold, in Vaughn, MT and then later to Great Falls, MT where she graduated from Great Falls High School. She then graduated from Sacred Heart School of Nursing in Spokane, WA, where she met the love of her life, Terry Liggett. Although her love for Terry was strong, she insisted on making him wait to marry her until she obtained her Bachelor of Science Degree in Nursing. The two were married June 11, 1955, in Great Falls.
Following their marriage, they lived in Richland, WA, and then returned to Great Falls, where she worked for Columbus Hospital as Head Nurse for Pediatrics and OB. She later worked for Cascade County Convalescent Home as Head of "C" wing. She put a very high value on her nursing license and was well respected in her chosen field. In 1968, Betty and Terry started and operated their own business, Liggett Construction, until 1996, at which time their sons took over the business.
When she was younger, her father, Ray, taught her to hunt and fish. For several years, Betty was a Girl Scout leader. Because of her creativity, the troupe grew to more than 25 girls, plus her own 3 sons. She enjoyed spending time with her family at their cabin on Holter Lake, and at their condo on Maui. While on Maui, she loved watching whales, hunting for seashells with Terry and shopping.
There was absolutely nothing she loved more than spending time with her family. She had an incredible love for her children and grandchildren, and she was a "mom" to many others. She was feisty and stood up for not only her kids, but for other children who needed love and protection. She took in and cared for her elderly grandparent, Herbert Arehart, after her grandmother, Marie, passed. She was always willing to make enough room for everyone. She would say, "Put another potato in the pot." Her generosity and giving of her time to family and friends will be greatly missed.
Not only did she love the generations of her children, she was also devoted to her beloved husband, Terry. She was never the same after losing him 6 years ago. He was the love of her life. Their love is an example of true love, of showing love everyday, and of never giving up on marriage through the decades.
Betty is survived by her children, Dona (Robert) Hughes of Bigfork, MT, Scot (Joanne) Liggett, Linda (Rich) Sangray, Richard Liggett, and Mark (Mary) Liggett, all of Great Falls; ten grandchildren, Terry (Samantha) Liggett, Kristie (Tyler) Williams, Michael, Kris, and Kelly (Larissa) Liggett, Cassie Sangray (Josh Minardi) and Trista Sangray, John Hughes, Annie (Drew) Schmitz, and Lexi Hughes; nine great-grandchildren; brother, Danny (Allen) Castro of Hawaii; sister, Peggy (Marvin) Andersen of Kansas; her beloved cousins, Gary Larsen, Lois (Ollie) Olson and Sue (Ron) Kaul, to name a few; and many nieces and nephews. She was preceded in death by her loving husband; parents; brother, Tom Robinson; two sisters-in-law, Hope Caprye-Boos and Loretta Levno; and a great grandson, Grayson Liggett.
The family suggests memorials be sent to the Great Falls Children's Receiving Home (P.O. Box 1061, Great Falls, MT 59403) or the LOVE – Linking Our Voices Everyday Organization.


Previous Events
Vigil Service
Hillcrest Lawn Memorial Chapel
1410 13th Street South
Great Falls, MT 59405
Funeral Liturgy
Our Lady of Lourdes Catholic Church
409 13th Street South
Great Falls, MT 59405