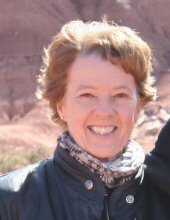 Obituary for Charlotte Charlene Kantorowicz
Charlotte Charlene Kantorowicz, 71, of Great Falls, passed away of Alzheimer's Disease on Sunday, September 13, 2020.

Charlotte, the youngest of three children, was born to Paul and Betty (Mason) Stout in Lusk, Wyoming on October 13, 1948. The Stouts moved from Wyoming to Roundup, Montana in the early 1960s, where Charlotte graduated from Roundup High School in 1967. She moved to Bozeman where she obtained her beautician's license and operated her own hair salon. It was there that she met her husband of 50 years, J. C. Kantorowicz, on a blind date.

She was active in the family ranching operation at Wolf Creek. She did everything from fixing fence, to calving, haying, and spending countless hours working cattle, riding horse back in the pastures, and around the corrals. Char had her own herd of Red Angus cows, of which she was very proud. When the ranch was sold in 1999, she threw herself headlong into the farming operation, east of Great Falls. Always there to help, she worked hard to create the beautiful farmstead she now called home.

While still newlyweds, Charlotte wanted to ride J. C.'s Triumph motorcycle instead of her little Kawasaki. The Triumph was large, powerful, and had a kick starter. J. C. told her that if she could start it, she could ride it. Returning home from work one evening, J. C. found the Triumph and Charlotte gone! In later years, both became involved with Harley Davidson motorcycles. Charlotte owned and rode three Harleys, a Honda dirt bike, and a Boss Hoss Trike. Many road trips were taken around the Pacific Northwest and Canada on motorcycles.

Charlotte was preceded in death by her parents, Paul and Betty Stout; and a brother, Albert Leroy Stout. She is survived by her husband, J. C. Kantorowicz; daughters, Tammy Kantorowicz of Great Falls and Courtney (Jim) Feldman; grandchildren, Zachery and Madisen Feldman, all of Belt; and oldest brother, Harold Adams of Marshfield, Missouri.

Due to the unreasonable fear and un-Constitutional mandates for masks, there will be a gathering of family and close friends the afternoon of Friday, September 18, 2020, at the family home (166 Swift Road, Great Falls, MT 59405). Anyone caught wearing a mask will be shot.


Events
Event Information
Cremation has taken place.