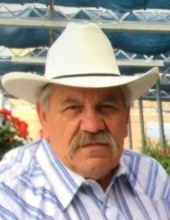 Obituary for Dale Anthony Henry
Dale Anthony Henry sadly passed away on October 6, 2020, at Benefis Hospital in Great Falls, Montana due to heart complications.

Dale was born on March 6, 1953, in Havre, Montana to David and Mary (Boushie) Henry. He was raised in, and graduated from high school in Box Elder, Montana. Dale was the oldest of his siblings. At the time of his passing, he was a Sales Associate in Lawn and Garden at the Smelter Ave Walmart in Great Falls. Dale and Linda both worked at Walmart for 7 years, and during that time they became very close with many coworkers. They have always considered them an extended "Walmart" family. Dale loved to prank his wife, but while at work no one was safe. Many family and friends will miss having him sneak up on them, scaring them, or even teasing them. He was a very loving and fun man who will be missed very much.

He married Linda Gail Renfors on January 8, 2000. They were inseparable from that point on. Through the good and the bad, they were madly in love. When Dale married Linda, he also gained two grandchildren, Danielle and Zachary Dillon, in addition to many family members. Later when Dani had given birth to her first child, Evander Dale Beatty, Dale became a great-grandpa. From then on his greatest loves were his wife, Linda; granddaughter, Dani; and great-grandson Evander who had become his pride and joy.

Dale loved his brothers and sisters, nieces and nephews, and many cousins. He always enjoyed spending time with his family outdoors with horses, fishing, going to rodeos, or just getting together.

He is survived by his wife, Linda Gail Henry of Great Falls; brother, Ted Henry of Great Falls; sisters, Nancy Meredith of Great Falls and Theresa Henry of Great Falls; nephews, Chad Henry, Kipp Henry, and Chase Meredith, all of Great Falls; niece, Christian Meredith of Great Falls; and many cousins.

Dale was preceded in death by his parents, David and Mary Henry; and brothers, Paul Henry, Chris Henry, and Mark Henry.


Events
Event Information
Cremation has taken place.