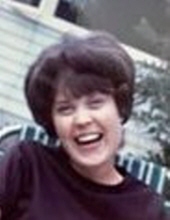 Obituary for Dorothy Louise Duggan Kuntz
Dorothy Louise Duggan Kuntz peacefully passed away on Wednesday, February 10, 2021, while holding the love of her life's hand. Dorothy was the third of four siblings born to Ruth Jackson Duggan and Emmett James Duggan on February 1, 1946, in Great Falls. A celebration of life will be held at the Black Eagle Community Center on Friday, April 30, 2021 from 5:00 until 9:00 p.m. All are invited to share in her celebration.
Dorothy attended St. Mary's Elementary school and went on to graduate from Great Falls Central Catholic High School in 1964. She attended two years of college at the College of Great Falls and the University of Montana. Dorothy was the domestic engineer of the Kuntz household and was very active on the Children's Receiving Home Board and with Holy Spirit Catholic Church. She was also very affectionately known as "The Plant Lady" as she took care of many plants in local businesses throughout Great Falls. She was extremely creative and spent many hours on her passions of crafting, quilting, knitting, playing golf, and swimming, especially at her heaven on Earth, Seeley Lake. Dorothy's pride and joy was her family. She was constantly found in her grandchildren's classrooms, creating art days and field trips for them when they were young, supporting their athletic endeavors, and taking them on trips to Disneyland, San Diego, and Oceanside. Dorothy met Richard Kuntz, the love of her life, in 1960 when they were 14. She married him in September of 1967. They then went on to enjoy 54 years of laughter, love, trips, and adventures. Very rarely was there a day where they were not together enjoying each other, their children, or their grandchildren.
Dorothy is survived by her husband, Richard "Dick" Kuntz; children, Amy and Mark (Lizzy) Kuntz; grandchildren, Tim and Sam Potoczny and Tave Durnam; sister and brother-in-law, Kathy "Sas" and Lyall Tesch; brother, Denny (Mary Francis) Duggan and her nephew and his family Rob (Kamee) and Kyler Tesch. She was preceded in death by her parents, Ruth and Emmett; brother, James Duggan; and Jordan Tesch.
Donations may be made in Dorothy's name to the Great Falls Public School Foundation. We will never forget your smile, your strength, or your dedication and love for your family. Go enjoy now, Gma, you are free!