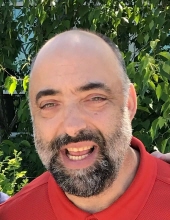 Obituary for Gary Ray Holsclaw
It breaks my heart to let you all know that our son, brother, and uncle, Gary, has passed away. He was challenged in life with developmental and intellectual disabilities, but I don't think he would've wanted it any other way, because through it he taught us everything about life. Stay grounded. Take nothing for granted. Be thankful for what each day gives you. Love everybody.

Gary loved music. I swear he knew every song ever written. He even did his "dirty laundry" to a song. He was always "working hard for the weekend." He loved going to church to hear the gospel, sing the music, and clap along. He just loved life. He also loved to draw. He loved to draw the sun, a table, a face, and the great, Tony the Tiger along with many X's and O's for the hugs and kisses we shared. We always looked forward to getting his cards.

He loved his slushees, his diet Sunkist, his Snickers, and Butterfingers. He swore they didn't have any sugar. He always wanted to buy us a slushee or two. He sure loved to eat. His favorite meal was the next meal. Growing up he would finish eating everything in sight. We just had to "believe in him" that he could finish what was in front of him. He's the coolest dude you could've ever met and had the biggest heart. He was even the best man in Mark and Julie's wedding almost 25 years ago.

Gary loved money. He was "money hungry." This hunger led him to opening as many as 5 bank accounts on his own, but not just because he wanted to move 5 one dollar bills from one bank to the next, but it was the ladies. Oh how he loved the ladies at the banks, and the dum dums, of course. I can't leave out the OP. He loved that darn quarter board. He would catch the city bus all the way across town, no matter the weather, just so he could put a quarter on the board. He won a couple of times too. He often left that part out, until he let it slip. Don't forget he was money hungry. What a character.

We think this virus got the best of him. He never had the virus, but the stress it caused him from being out of routine was too much to bear. Not being able to see his mom, go to the banks, the OP, or get his haircut was just too much for him. Gary passed away in his sleep from a heart attack.

Gary was so dearly loved by all of us. He was preceded in death by his brother, Regan Holsclaw and biological father, Ronald Holsclaw. He is survived by his mom, Arleen Heintzelman; dad, Ken Heintzelman; sister, Char Peppenger, her husband, Dave, and their two children, Gabe and Spencer; his brother, Mark Heintzelman, wife, Julie, son, Blake, and daughter, Ava; grandmother ,Irene Heintzelman; uncles, Ed Nicholas and James "Rocky" Holsclaw; and aunt, Debbie Stansberry.

We don't know why the Lord brought him home now. He was so young, only 54. Our mother, whom he loved so incredibly so, is battling stage IV gastric cancer that has metastasized. Did the Lord bring him home so he didn't have to try and live through her struggles? I don't know, but he is in the hands of God now. Love on this kid. He deserves it.

When you see a person with a disability please be kind, be generous, and be loving.


Events
Cemetery Details
Location
Mount Olivet Cemetery
26th Street South and 24th Avenue S
Great Falls, MT 59405