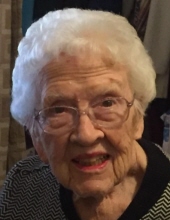 Obituary for Helen Maxine Hurlbert Hodge
Helen M. (Hodge) Hurlbert, 99, of Great Falls, passed away on Saturday, February 6, 2021.

Helen was born on May 31, 1921, in Ryegate, MT to Gustov and Bessie (Haug) Sarbo. She joined the US Navy on June 14, 1943, and was honorably discharged on March 16, 1946. She married Roy Hodge on June 15, 1946. He passed away in August 1999, in Mesa, AZ. They had two sons, Glenn (Kay) and William (Patti). She moved to Great Falls, MT in March of 2001. She married Logan Hurlbert on August 12, 2002. He passed away in February of 2004.

She is survived by her sons, Glenn and William Hodge; four grandchildren, Matthew, Kelly, Theresa, and Alan; and six great-grandchildren.