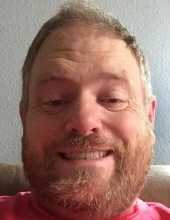 Obituary for Jerry Wayne Perchert
Jerry was called home on October 8, 2020. He passed away from complications of Covid-19.

Jerry was born on October 9, 1973, in Oakdale, California to Dale and June Perchert. He had previously lived overseas in the United Kingdom where he graduated from high school. Those who knew Jerry knew his passion was music and singing, something he did all through high school, in choir, and in his church. Because of his amazing ability he was selected out of thousands of students to be part of a 125 person ensemble that traveled around Europe singing representing NATO and the American high schools. He was doing what he enjoyed most singing and traveling. It was during this time he was able to witness history by being present, and one of the first to see the BerlinWall fall in 1991. To this day he had a piece of the wall.

He loved the Lord and was active in his church. Jerry was an artistic soul and his ability to express that through art was truly amazing. From coloring to doing crafts with his mother, he was always creating something. What he could create especially with his Legos was a true talent. He also loved drama, Broadway, and anything to do with it. He was fortunate enough to see his favorites, Phantom of the Opera and Cats live at a London theatre many times. He collected frogs, even though the live ones and touching them freaked him out.

Jerry never had children, but was an amazing uncle to his two nephews that he loved dearly. He also loved his pets and is playing with his first dog, Missy now. It goes without saying if you knew Jerry you will always remember him. He will be greatly missed by all that knew him and loved him.

He leaves behind parents, Dale and June Perchert; brother, Dale "Robbie" Perchert; sister, BreeAnn Simpson; two nephews, Jaxon Perchert and Ryker Vann; and two uncles, Boomer and Luke from California. He was preceded in death and will be joining his grandfather, Lester Rogers; and grandmothers, Edna Kennedy and Virginia Lovell, all of Oakdale, California.

There will be a celebration of Jerry's life on Wednesday, October 21, 2020, at New City Church at 1:30 p.m. located at 4114 N Park Trail, Great Falls, MT. Cremation has taken place, if you would like to contribute to helping with his final expenses you can by contacting Schnider Funeral home directly at 406 727-1368.


Previous Events
Celebration of Life
New City Church
4114 N Park Trail
Great Falls, MT 59405