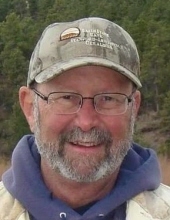 Obituary for Lance Duane Davis
Husband, father, brother, uncle, and a friend to many, Lance Duane Davis passed away unexpectedly on March 20, 2021, in Great Falls, MT. He was born on March 5, 1950, in Townsend, MT, where he attended public schools and graduated from Broadwater County High School in 1968. He was active in numerous organizations throughout high school including football, speech, and student council. He earned first team all-conference honors his senior year as the center of the football team.

After high school, Lance attended Seattle University for one year before transferring to the University of Montana in Missoula, where he graduated with a Bachelor of Arts degree in English. Lance began his teaching career in Laurel, and then in Roy, MT, where the special education teacher, Susan Trask, stole his heart.

After four months of dating, they were married on June 12, 1976, and would have been celebrating 45 years of marriage this summer. Lance and Susan then moved to Riverton, WY, where they both started teaching. After teaching two years at Wind River High School, Lance changed career paths and began working at the Riverton Ranger newspaper in the printing department. While in Riverton, Lance and Susan welcomed their first son, Will, in 1980.

With printing ink running through his veins and new baby in tow, Lance and Susan decided to purchase the Judith Basin Press in Stanford, MT in 1981. The printing aspect was the main attraction for Lance, designing and publishing hundreds of documents for local businesses and events. During the early years at the press, Lance and Susan welcomed their second son, Cale, into the world in 1983.

After 16 years of running the local newspaper, Lance decided a new career was needed. He began working at Basin State Bank in Stanford as a loan officer and IT specialist. Lance worked at the bank for 12 years, retiring in 2011.

Lance was a member of the C.M. Russell Stampede Club and volunteered for the Stanford Beautification Committee. He also served on the Stanford town council for four years, after surprisingly being elected through write-in votes.

Lance's hobbies included playing cards and board games, fishing, golfing, spending time up at the cabin in the Little Belt mountains, and spending time with all his Townsend buddies. The same stories were told over and over, but they never got old. Lance also hosted many "attitude adjustment" dinners at the cabin, along with numerous grouse hunting camps with the Davis boys.

Lance was preceded in death by his parents, Logan and Edna Davis. He is survived by his wife, Susan; sons Will (Ashley) Davis, of Missoula, and Cale (Katie) Davis; and the apple of his eye, granddaughter, Logan of Bremen, GA; his brother, Scott (Janet) Davis of Billings, MT; and numerous nieces and nephews.

A celebration of life will be held at Calvary Community Church in Stanford at 11 a.m. on March 26, 2021. Inurnment will take place in Townsend, MT at a later date. In lieu of flowers, donations can be made to the C.M. Russell Stampede Club or the Stanford Beautification Committee.


Previous Events
Memorial Service
Calvary Community Church
103 Central Avenue
Stanford, MT 59479