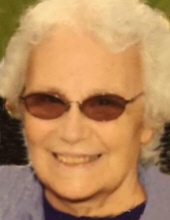 Obituary for Lillian "Lil" Margaret Watters
Our beloved mother, grandmother, and great-grandmother, Lillian "Lil" Watters passed away on January 5, 2021.
Lillian was born on September 25, 1935, in Wupertal, Germany to Hans and Gertrude Vogeler. She spent her first 11 years in Germany then emigrated to the U.S. The family landed in Windsor, CO, where she spent her formative years and graduated from Windsor High School. Upon graduation, she moved to Great Falls, MT, to attend Columbus School of Nursing. She graduated with a Registered Nursing degree in 1957.
Shortly after graduation, she met her roommate's brother, Joseph "St. Joe" Watters. They married in 1958, leading to a 45-year marriage producing four wonderful children, Deb, Pam, Don, and John. St. Joe passed away Aug 5, 2003.

Lillian was a registered nurse at the Deaconess Hospital, which eventually became Benefis Health Care. Lil spent more than 50 years as a nurse and volunteer, helping all those that were in need. She continued these efforts in retirement by actively supporting many local organizations such as, Great Falls Rescue Mission, the Women's Receiving Home, St. Vincent de Paul, etc.

Early in her career, she was a critical care nurse working in the OR, CCU, and ICU. Later, she moved to the NICU, Neonatal Intensive Care Unit. "Babies are lighter than adults." she always said. Her time in the NICU was her joy. She worked tirelessly to nurture innumerable infants in crisis. She was a fountain of knowledge and lore in the nursing community. There are so many stories we cannot possibly list them here, so we are posting them on her Facebook page.

Lillian is survived by her children, Pam (Al) Wieweck of Gillette, WY, Donald Watters of Missoula, MT, and John Watters of Bozeman, MT; elder brother, Charles of Greenwood, IN; grandchildren, Jessica Wieweck, Cyndi (Kyle) Rogers, and Robert (Whitnie) Wieweck all of Gillette, WY and Nikole (Jesse Langley) Wieweck of Bozeman, MT; and six great-grandchildren.

She was preceded in death by her parents, Hans and Gertrude Vogeler; husband, Joseph Watters; and eldest daughter Deborah Watters.

Services will be held at time when the weather and pandemic situation allows for a proper memorial. Condolences for the family may be shared online at www.SchniderFuneralHome.com or Lil's Facebook page, https://www.facebook.com/lillian.watters.7.