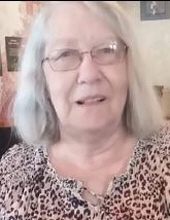 Obituary for Patricia Ann Maki
Patricia "Pat" Parenteau Maki, 80, of Great Falls, passed away on Wednesday, October 7, 2020.

Pat was born on Sunday, March 17, 1940, in Chinook, MT to David and Ruby Parenteau. She was the third eldest of nine siblings. After graduating from Centerville High School in 1958, she married Edgar "Eddy" Maki. Besides focusing her time on being a wife and mother of four, Pat decided to go back to school and she graduated from the College of Great Falls in 1977. She dedicated her life to Native American Education.

She loved her cats and spending time with her family. She enjoyed jigsaw puzzles, knitting, crocheting, and playing Bingo.

Pat was preceded in death by her father and mother; husband; two brothers, David and Sammy; sister, Darlene Maki; and daughter, Denise Ramsted. She is survived by her three brothers, Gary (Georgie), Benny (Jeannie), and Joseph (Bonnie) Parenteau; two sisters, Ruby Larsen and Alpha (Gene) O'Brien; three children, Dennis (Darlene) Maki, Pamela (Curtis) Greenfield, and Lori Maki; five grandchildren; and six great-grandchildren.

Patricia's wishes were to be cremated and buried next to her husband at the Montana State Veteran's Cemetery in Helena. A celebration of life will be held at a later date.