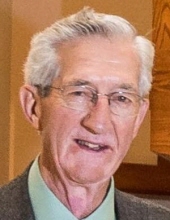 Obituary for Raymond S. Axtman
Raymond S. Axtman, 84, of Great Falls, passed away on February 5, 2020, in Great Falls. Ray was born on October 13, 1935, in Balta, ND and grew up on the family farm along with eight siblings and loving, supportive parents. During that time, he became the gentle, kindhearted man with a strong work ethic and integrity that we all loved so much.
His passion for cars started at a young age while driving the dirt roads of Pierce County. His favorite stories to tell involved the cars he had, what cars his friends had, and who had the fastest car. His face lit up when he had the chance to see his old friend, Ralph, recently in Rugby, ND giving them a chance to reminisce about the good old days.
His God given talent to play music filled our days with singing, dancing, and laughter. Every holiday, he was asked to play the accordion. With the grandkids standing in front of him, Ray would take requests including any waltz or polka. "Kansas City" and "In the Mood" were always favorites. Singing around the campfire was a family tradition we all hold close to our hearts. Dad would play the guitar and everybody would sing along. All this music ability led to another talent, which was dancing. Ray was the best dancer in the world. Just ask his wife and daughters, who had to take turns dancing with him at weddings, family reunions, or Saturday nights at the Moose Club.
In 1957, Ray married Adeline J. Voeller in Balta, ND. Ray's time on the farm, work experience, and love for engines ultimately led them to Great Falls to seek employment. He started a lifelong career with General Mills becoming their packer mechanic. His knowledge grew over the years providing him with the insight to make the Great Falls General Mills, one of the most productive lines in the company. He traveled for the company to New York, California, Kansas, and Minnesota as a consultant to help improve their productivity. Ray drove his blue Ford truck for many of the 42 years he worked at General Mills. He would always say he thought the truck could drive itself to work. He was proud of his accomplishments there and grateful for all the friends he made. Friends/coworkers respected him and often referred to him as "Ax".
In the years following, Ray was blessed to have new coworkers/friends going to work for Steele Etc for 15 years. He loved the work and working with his family. Once again, Ray proved to be invaluable to the company solving the code necessary to run the shear. Ray was the fixer. If you needed advice on running or fixing something, Ray was your man.
Ray was a compassionate, positive man even as the challenges of aging confronted him. He was a wonderful husband, father, grandfather, and friend who will be greatly missed. One of his favorite sayings was, "Weather it's cold or weather it's hot, we're going to have weather, weather or not." That saying will always have a special meaning to us because whether Ray is with us or not, he will be in our hearts forever.
Ray is survived by his wife of 62 years, Adeline Axtman; daughters, Debra (James) Filipowicz, Elaine (Lonnie Thurston) Axtman, and Susanne (Jeff) Haskell; grandchildren, Joseph (Misty) Filipowicz, Sara (Adam) Palagi, Danielle (Dustin) Hogan, Lane Haskell, Dylan Haskell, and Kristin Haskell; and five great-grandchildren.
His parents John J. and Magdalena Axtman as well as six of his siblings preceded him in death.
A rosary and viewing will be held at Our Lady of Lourdes Catholic Church on Monday, February 10, 2020, at 7:00 p.m. Funeral services will be held on Tuesday, February 11, 2020, at 2:00 p.m. at Our Lady of Lourdes Catholic Church.


Previous Events
Rosary
Our Lady of Lourdes Catholic Church
409 13th Street South
Great Falls, MT 59405
Funeral Liturgy
Our Lady of Lourdes Catholic Church
409 13th Street South
Great Falls, MT 59405