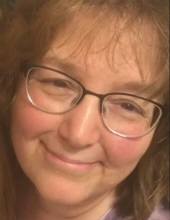 Obituary for Rhonda Rae Lesofski
Rhonda was born on October 3, 1957, to Bernice Damon and Ronald Ramsey. She was called home Tuesday, November 10, 2020. She attended Cascade High School, where she graduated in 1975. Rhonda spent her free time in extracurricular activities, as well as, cherishing moments with her mother, stepfather, Earl, and three younger siblings, Rebecca, Lorrie and Laura.

Rhonda met her husband, Kenny in 1990 and spent four loving years together before getting married on March 21, 1994. They had three beautiful daughters, Danielle, Kayla, and Celina. In 2003 Rhonda and her family moved to Cascade where she spent the remainder of her years. Rhonda not only loved spending time with her family, but enjoyed laughing and creating countless memories with her Great Falls Clinic Family. On the weekends, you could find Rhonda cozied up reading Danielle Steele's novels, playing Candy Crush, or watching any film featuring Doris Day or movies on the Hallmark channel. Rhonda loved the outdoors, camping, baseball (mainly Johnny Bench), or simply visiting with family and friends and enjoying one another's company.

Rhonda had the kindest smile, welcoming heart, and warmest personality to everyone around her. Rhonda's selfless acts and witty sense of humor will be deeply missed by those who knew her. Rhonda is survived by her husband Kenny of Cascade; daughters, Danielle of Conrad, Kayla of Cascade, Celina of Great Falls; stepdaughters, Tiffani (Ryan) of Great falls, Stephanie of Spokane; father, Earl of Cascade; sisters, Laura (Jarod) of Billings, Rebecca (Robert) of Sparks; and countless nieces, nephews, aunts, uncles and grandchildren. She was preceded in death by her mother Bernice; sister, Lorrie; grandparents, Buster and Florence; and uncles, Leo and Albert.

A memorial service will be held for close family members on Wednesday, November 18, 2020, at 2:00 p.m. at O'Connor Funeral Home. A reception will follow at the Driftwood Bar & Grill in Cascade for those who would like to attend. Rhonda will be deeply missed by many.


Previous Events
Celebration of Life
Driftwood Bar and Grill
7 Central Avenue West
Cascade, MT 59421
Reception only following private family memorial service that begins at 2:00 p.m.