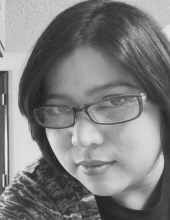 Obituary for Sandra Sinilla Sturchio
Sandra Antonares Sturchio, age 41, of Great Falls passed away unexpectedly at her home September 4, 2020. Sandra was born March 14, 1979, in Bacolod, Philippines to Andres and Belen (Sinilla) Antonares. She received her education in Bacolod graduating from Bacolod High School.

In 1999 Sandra met Erik Sturchio, while he was serving in the United States Army overseas. They were married in the Philippines. In 2000 she acquired a marriage Visa and they traveled to Colorado. Two children were born to their marriage, Sabastian and Joshua. They moved to Montana in 2003 where she was blessed to be able to stay at home caring for her husband and children. They later divorced, and remained good friends and both had the best interests of their children.

Sandra was able to receive her United States Citizenship in 2013. While living here in Great Falls, Sandra worked for Benefis Health Care, various hotels, and food service providers. She was a member of the First Baptist Church in Great Falls. She enjoyed reading and listening to music.

Sandra was preceded in death by her father, Andres Antonares. She is survived by her two children, Sabastian and Joshua Sturchio; her ex-husband and friend, Erik Sturchio all of Great Falls; her mother, Belen (Sinilla) Antonares; her siblings, Evangeline A. Magbanua, Dargold Antonares, Ma Angeline A. Andrada, Annabelle A. De Erit, Antonio Antonares, Rosalie A. Molo, Jerry Antonares, Alfredo Antonares, Jerico Antonares, Melchor Antonares, Gabriel Antonares, Roberto Antonares, and Alex Antonares; and numerous nieces, nephews, extended family, and friends.

A memorial service celebrating Sandra's life will be 5:00 p.m., Thursday, September 17, 2020, at O'Connor Memorial Chapel with Pastor Rick Brown of the First Baptist Church officiating. Memorials in Sandra's name are suggested to the First Baptist Church (525 2nd Avenue N. Great Falls, Montana 59401).


Previous Events
Memorial Service
O'Connor Memorial Chapel
2425 8th Avenue North
Great Falls, MT 59401