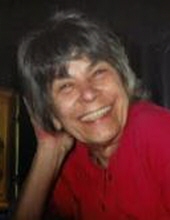 Obituary for Shirley May Edam
Shirley May Edam, 79, of Great Falls passed away in the early morning hours of Tuesday, July 21, 2020, from natural causes. Acelebration of life will be held at a later date.
Shirley was born on August 31, 1940, to Wilbert and Tillie (Schan) Edam. She attended school in the Sydney area. Shirley is survived by a daughter, Stacey Diaz; sister, Dora O'Connor; brothers, Rick (Cheril) Edam, Dale (Bev) Edam and Morris Edam. Shirley was preceded in death by sisters, Ethal Jimison and Norma Kaschube; her parents, Wilbert and Tillie; and daughter, Lisa Dillon. Shirley has left behind numerous nieces, nephews and many cousins. She also leaves behind five grandchildren, Savannah (Jesse) Hilton, Sonja (Tyler) Aguilar, Sheyanne (Nick) Robinson, Jonathan (Anessa) Heaton and Antonio Heaton along with thirteen great grandchildren, Shayla, Saydee, Jayse, Hayden, Devin, Keira, Lily, Alexiz, Aleya, Dade, Sophia, Jaleigh and Hattie.
Shirley married John "Al" Diaz in 1962, and they had two daughters, Stacey Mischel Diaz and Lisa Janine Diaz. The couple divorced in 1968. Lisa passed away in 2002.
Over the course of her career, Shirley worked as a telephone operator, at The Sydney Herald Newspaper, and started a weekly newspaper and print in West Yellowstone with a couple of friends. Shirley worked in Big Sandy for their newspaper and as a magazine editor. Shirley retired from The Great Falls Tribune. She also worked in the service department at City Chevrolet in Great Falls. Some of Shirley's hobbies included genealogy, trying to rescue all of the stray dogs and cats she possibly could, participating in small arts and crafts with her great grandchildren, and Shirley also had a wonderful green thumb. Shirley was a hands-on woman and loved working with tools. She was often starting new projects in place of finishing old ones.
Shirley is loved by many and will be greatly missed.