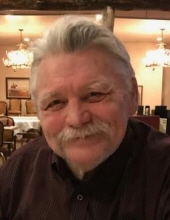 Obituary for Terrance "Terry" Glenn Everson
Terrance Glenn Everson, 72, of Great Falls, passed away November 23, 2019.


Terry was born on January 3, 1947, in Bottineau, ND to Joyce and Glenn Everson. He graduated from Great Falls High School and then served in the U.S. Army in Vietnam. After receiving various medals he left the Army after the Vietnam War and worked as a dry waller for various companies.


Terry loved animals, art, reading and the outdoors.


He is survived by his sisters, Melany (Maury) Villeneuve, Tamra Everson, Robin (Ron) Miller, and Janelle (Tom) VanTighem; nephew, Derek (Kerri) Villeneuve; niece, Lindsey Villeneuve; great-nephews, Silas and Kellan; and great-nieces, Sabine, Carys, Zoe, and Lola.


Terry was preceded in death by his parents, Joyce and Glenn Everson.


There will be a private family service at a later date.