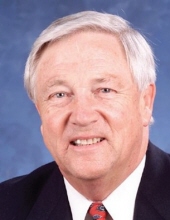 Obituary for William Arthur Harp
William A. "Bill" Harp,78, of Great Falls passed peacefully, surrounded by his family, into the Lord's hands on January 1, 2021, after suffering from heart issues for 24 years. His physical heart may have failed, but his "other heart" of love for God, family, community, and friends never stopped. He lived every day to the fullest until he died.

Bill was born September 22, 1942, to Arthur M. and Doris (Wecker) Harp in Long Beach, California. When Bill was five years old, they moved to the family farm at Buford, ND where he grew up. He attended Williston High School where he was the ND state wrestling champ in 1957-58 and graduated in 1960. Upon graduation, he moved to Poplar, MT to work and met Tana Sage, whom he married on July 8, 1967. They moved to Great Falls that year. They were blessed with five accomplished and loving children and nine beautiful and perfect grandchildren. If you asked, he would be sure to tell you!

Bill and Tana were married for over 53 years at the time of his passing. His family was his pride and joy, and it was evident to all that they learned the lessons he taught them about God, family, friendship, love, kindness, perseverance, and hard work. It was important to him to keep everyone connected, and when he could get them all together there was always a float trip on the river filled with life lessons. His special group of "floating buddies" spent hours on the river where they were always on time.

After working a short time in the auto body business, Bill found his true calling and passion in serving clients in the insurance and financial planning industry. From 1968 until his passing, Bill was active in the business with Harp Financial Group, which lives on through his son. Bill educated himself receiving both his Chartered Life Underwriter and Chartered Financial Consultant designations and was always active in the industry. Bill was also proud to have served in both the Army and Air National Guard.

There were scarcely any community organizations he did not touch, and no one was ever a stranger. Active in the swimming community, he continued as the announcer calling meets through last season well after his kids were gone. He served at the Troop and District levels in Boy Scouts, as Scoutmaster where under his leadership 24 young men received their Eagle designation, District Chairman, Silver Beaver, and to the present day on the Eagle Board. He loved to see the accomplishments of young people. United Way, Chamber of Commerce and The Great Falls Baseball Foundation were all blessed to have him as chairman. He was an active member and board member of Rotary. Baseball was a passion, sitting on the board while they were Dodgers to the Voyagers.

With his family, his membership and service to God at Sunrise Presbyterian Church was of great importance. He was an ordained elder and served on almost every committee. His legacy is evident in the work he did on the stained glass windows at the church. Many of us were blessed to have a piece of his stained glass.

Bill is survived by his wife Tana, son, Trevor (Kim) Harp and children, Avery, Juniper and Lincoln of Bozeman; daughter, Tasha (Sean) Harp-Kennealy and children, William and Alexandria of Melbourne, Australia; daughter, Trisha Harp-Gardner and children, Harper and Cole of Great Falls; son, Travis (Erica) Harp and children, Hannah and Henry of Great Falls; and daughter, Tamara (Michael Logan) Harp of Anaconda; sister, Janet (Jerry) Rassier of Sioux Falls, SD; brother, Richard Harp of Minot, ND; brothers-in-law, Michael (Suzanne) Sage of Tulsa, OK and David (Gayle) Sage of Billings; and many nieces and nephews. He was preceded in death by his parents, Arthur and Doris Harp; and brother, John Harp; as well as two nieces.

A memorial and celebration of life is planned for mid-summer when we can safely gather and have our loved ones from around the world with us. Memorials are suggested to Sunrise Presbyterian Church, the Montana Council of Boy Scouts, or the Lewis and Clark Foundation.