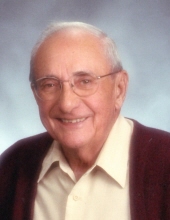 Obituary for J. Fred Bourdeau
J. Fred Bourdeau died of natural causes on February 23, 2018. Fred was the youngest son, born on June 17,1923 in Missoula, MT to Alexina and Lionel Bourdeau, both who were from French-Canadian immigrant families. Fred had four other siblings: Emory, Lucille, Jean and Rose Marie "Dede." The Bourdeau's were one of the early families to the Missoula area, and as a young boy Fred grew up close to his cousins and extended family. In 1942, he enlisted in the Navy and served as a Pharmacist's Mate Second Class in the Pacific theater and was honorably discharged in 1946. He then attended the University of Montana and was a member of Sigma Chi fraternity. It was there he met the love of his life and best friend, Lottie Lincoln, and they were married on August 27, 1949.

Fred started law school at the University of Montana and graduated in 1951. Fred and Lottie eventually made their way to Great Falls and bought a home overlooking the Missouri River. Fred set up a private law practice and then began working part-time as a deputy for the Cascade County Attorney's Office. He worked his way up to Chief Deputy County Attorney under Gene B. Daly, and when Daly was appointed to the Supreme Court, Fred became County Attorney. He proudly served the people in the Cascade County Attorney's Office for 26-1/2years. In the 1970's, Fred personally prosecuted many of the county's most difficult murder cases, and worked closely with the police to remove drug dealers and organized crime from the county. As an elected official, Fred, a life-long Democrat, tried to find consensus between county officials, the courts, and the public. He made a practice of hiring both Democrats and Republicans as deputies, and he facilitated disputes by providing legal advice to county commissioners and other elected officials. Fred also was an early supporter of improving communications for Native Americans in the criminal justice system, and was recognized by the Indian Action Council for his efforts upon his retirement. Up until his death, Fred was unwavering in his care and loyalty to the people of Cascade County and Montana.

Fred formed life-long friendships and close working relationships with many of the attorneys in Great Falls and his fellow County Attorneys. He was a member of the Knights of Columbus and Civitan Club. When he retired, he took up woodworking, needlepoint, and painting, and continued to meet for coffee with his friends.

His parents and all of his siblings preceded him in death.

Fred is survived by his wife, Lottie; three children, Nicholas (Vickie) of Great Falls, Alex (Virginia) of Salem, OR, and Annette (Chris) of Seattle, WA; 5 grandchildren; and 2 great-grandchildren.

Funeral services will be held at a later date. Cremation has taken place under the direction of Schnider Funeral Home.

Donations in Fred's name may be made to St. Ann's Kitchen, 313 7th St N, Great Falls, MT 59401.
Memorial Contribution
St. Ann's Soup Kitchen
715 3rd Ave N
Great Falls, Montana 59401
313 17th St N, Great Falls, MT 59401