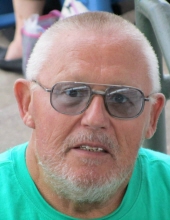 Obituary for Walter Joseph Tuss Jr.
Walt Joseph "Slugger" Tuss Jr., 73, passed away June 16, 2018 in Missoula, from complications of a stroke.

A celebration of Slugger's life will be held on July 14, 2018 starting at 1:00 p.m. at Black Eagle Community Center. Schnider Funeral Home is handling arrangements.

Walt "Slugger" was born on February 15, 1945 to Walt Tuss Sr. and Fran Kimmerle. He grew up in Black Eagle, and attended St. Mary's, Collins, Whittier and Central Catholic schools, graduating from Great Falls High School in 1964. He served in the US Navy from June 1965 to June 1969 with three tours in Vietnam on the US Kitty Hawk, working as an aircraft mechanic for VAW114 and on E2 AB air crafts. He then went to work for ACM from 1969 to 1972 at the furnace refinery, and the Butte Berkley Pit from August 1972 to June 1975. On July 1, 1975, he moved to Hardin and became a mechanic and wrecker driver until May 1976. He then went to work for Shoens Auto Parts from May 1976 to November 1977. He moved back to Great Falls in November 1977 and worked as a contractor until December 1978. From May 1979 to May 1980, Slugger worked at Bennett Motors as a mechanic. In March 1981, he went to work at Deaconess Hospital as a janitor until 1989. In 1989, Slugger attended Great Falls Vo-Tech graduating with a business degree in 1992. He then worked as an assistant manager at Gilligan's Island from 1992 to December 1993. He finished his career with Mini Mart and Loaf N' Jug, working as a clerk and assistant manager from May 1994 to 2005.

Slugger married Ann Wiley on October 21, 1972 and they spent 45 happy years together. They have two children, Spike (Janine) Tuss and Heidi (Peter) Adongo; and four grandchildren.

He was preceded in death by his father Walt Tuss Sr. in 1986 and his mother Fran Kimmerle.


Previous Events
Graveside
Montana State Veterans Cemetery
Fort Harrison
Fort Harison, MT 59636
Celebration of Life
Black Eagle Community Center
2332 Smelter Avenue Northeast
Black Eagle, MT 59414
Cemetery Details
Location
Montana State Veterans Cemetery
Fort Harrison
Fort Harison, MT 59636