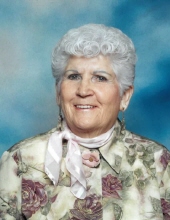 Obituary for Betty Jean Koesler
Betty Jean Koesler, 94, of Great Falls, passed away October 6, 2020, at a care facility in Great Falls.

Betty Jean (Callison) (Pound) Koesler was born October 30, 1925, to Benjamin and Nettie Callison in Loma, Montana. She attended grade school in Loma and graduated from Fort Benton High School in 1943. In 1944 Betty, her sister Lucille, and a friend moved to Spokane where they found jobs. She met Harold Pound, who had just returned from the war in Italy. He was discharged and returned home to Kansas but came back to Montana the following year and they were married in Fort Benton on September 21, 1945. They lived in Great Bend, Kansas about a year and a half, and had their first son Duane. They moved to Richmond, California and had two more sons, Douglas and Dale. Betty developed asthma while there so they move back to Montana in 1951, and lived in the Flathead area about three years and her asthma went away. Their first daughter, Denise, was born in Kalispell in January of 1953. Two years later another son, Daryl was born in Havre. They moved to Cascade the following year and had two more children. Deborah Jo was born in September 1956, and Derek in November 1958.

Betty and Harold were divorced in 1963. She married Bert Koesler in November 1967. He died in 1996. She moved to Great Falls, where she lived for her remaining years.

She was preceded in death by her parents, Ben and Nettie Callison; son, Duane Pound; daughter, Denise Ann Comstock; as well as, five brothers and six sisters.

Betty is survived by her sons, Douglas Pound and Daryl Pound in Bynum, Dale Pound of Hungry Horse, and Derek Pound of Columbia Falls, daughter, Deborah Jo Hancock of Great Falls; a granddaughter who was like another daughter, Brittainy Miller; ten additional grandchildren; six great-grandchildren; sister, Patsy Sampsell; and many nieces and nephews.

She was proud of the fact that her parents, and ten of their thirteen children lived to be 80 years of age and older! Her dad died at 80 and her mom at 86 years.

Memorials in Betty's name to the Alzheimer's Foundation are suggested. A memorial service will be held on her birthday, Friday, October 30, 2020, at 2:00 p.m. at O'Connor Memorial Chapel. Everyone attending is asked to wear a mask. Funeral arrangements are being handled by Schnider Funeral Home.


Upcoming Events
Memorial Service
O'Connor Memorial Chapel
2425 8th Avenue North
Great Falls, MT 59401
Memorial Contribution