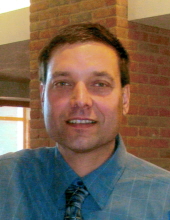 Obituary for Clark Raymond Jandt
Clark Raymond Jandt, age 56, passed away Wednesday, November 11, 2020, after a six year battle with brain cancer.

Clark was born on March 19, 1964, in Burns Lake, British Columbia, Canada to Orville and Glenna Jandt. As a young child, the family moved to Beach, North Dakota, where he graduated from high school in 1982. He then attended Billings Vocational School in Billings, Montana, where he met his adored wife of 35 years, Sandra Dailey.

In 1987, they moved to Minnesota where Clark worked in home construction with his father, eventually becoming self-employed as a framing contractor for 20+ years. It was in Minnesota where they raised their four daughters, Justine, Sara, Amy, and Samantha, whom he charmingly called Teen Teen, Bird, Aim Rock, and Shorty. He enjoyed snowmobiling, cracking jokes, and tinkering in his garage.

After the girls were grown, Clark fulfilled his lifelong dream of owning and operating a campground. In 2013, he purchased Old West RV Park in Reed Point, Montana, where he ran the campground and worked maintenance for the Reed Point School District. In 2014, he was diagnosed with glioblastoma multiform brain cancer, and with the support of the Reed Point Community, he started treatment. In 2017, Clark and Sandra made the decision to move to Great Falls to be near family and continue treatment.

He was preceded in death by his parents and four beloved basset hounds, Stanley, Molly, Rodney, and Max. He is survived by his wife, Sandra; four daughters, Justine (Ricky) Baskett of Alaska, Sara (Brandon) Reich of Colorado, Amy (Allan) Noyes of Nevada, and Samantha (Jeffery) Wanken of Kansas; sister, Vonda (Mike) Rising of Minnesota; twin brother, Mark (Sheila) Jandt of South Dakota; seven nieces and nephews; and four cherished grandchildren, Jackson, Kendall, Katie, and Nell.

Funeral service will be held at Harvest Springs Community Church on Wednesday, November 18, 2020, at 1:00 p.m.


Previous Events
Funeral Service
Harvest Springs Community Church
1001 36th Street NE
Great Falls, MT 59404