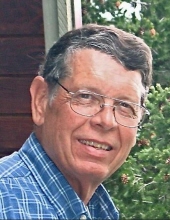 Obituary for Larry K. Duren
Larry Keith Duren, of Great Falls, Montana passed away on July 20, 2020, at the age of 74. No services are planned at this time.

Larry was born March 18, 1946, in Fayette, Missouri to Keith and Elaine (Hull) Duren. He grew up in Montgomery City, Missouri and graduated from Central Methodist University in Missouri, in May of 1968 with a BA Degree in Business.

Upon joining the Air Force, Larry moved to Great Falls, where he met and married his wife, Margie, in 1973. He lived in Great Falls throughout his career in the United States Air Force, where he was primarily stationed at Malmstrom Air Force Base, and retired as a captain. In addition to his wife, Margie, Larry is survived by his sister, Patsy (Brent) Speight of Montgomery City, Missouri; son, Scott (Laura) Duren; and granddaughter, Vanessa, all of Ann Arbor, Michigan.

Larry particularly enjoyed trout fishing at his cabin near Gibson Reservoir, where he spent many summers with his family. He also enjoyed other outdoors activities such as hunting, camping, and road trips across the U.S. In addition to his family and friends, Larry and Margie's cat, Mia, who followed Larry all around the house, will miss him as well.