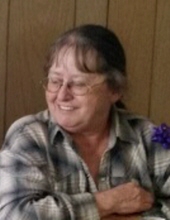 Obituary for Mali Lenore Larson Hensley
Mali Lenore Larson Hensley of Fairfield, MT passed away on her 65th birthday at Peace Hospice after a short illness.

Mali was born on January 4, 1955, to Fred and Marion Larson. Mali attended school in Fairfield and graduated from Fairfield High School in 1973.

On August 15, 1973, she married Dale Hensley. They had two children, Roy and Misty. Mali loved the mountains and horses. During her summers, she worked for Art and Edith Weikum where they packed boy scouts into White River. While married, Mali and Dale lived in several places before settling in Fairfield. Mali spent her remaining years helping her father on his ranch.

Mali is preceded in death by her husband, Dale; mother, Marion McLean; nephew, Marty Larson; and sister-in-law, Roberta Larson.

She is survived by her son, Roy (Angela) of Great Falls; daughter, Misty (Dwight) Handa of Great Falls; father, Fred (Donna) Larson; brothers, Martin Larson of Fairfield and Andy (Lyn) Larson of Billings; sister, Valerie Almos of Columbia Falls; grandchildren, Brendan, Raven and Arya Hensley, Tristan and Tasha Handa all of Great Falls; several nieces; nephews; aunts; uncles; and cousins.

A celebration of life will be held at a later date.