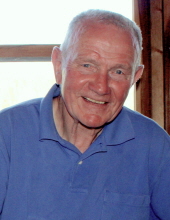 Obituary for Philip T. Eidel
Philip Thomas Eidel, 89, of Great Falls, passed away surrounded by his loved ones on February 11, 2020, after an extended fight with congestive heart failure.

As the youngest of four children, Phil was born on October 14, 1930, to Philip and Olive Eidel of Eden, MT. They lived south of Great Falls on a sheep ranch where Phil spent his early years. During this time, he earned the nickname, "Flip" and "Pie-del", from his siblings. Phil graduated from Great Falls High in 1948, where he met his first wife, Joan Morgan. After high school, he attended University of Montana, in Missoula, where he was a member of the Sigma Nu fraternity, and received his Bachelor of Science degree, in business. Upon finishing college, he voluntarily joined the United States Army, where he was sent to finance school while at Fort Benjamin Harrison in Indiana; was then shipped to Japan for two weeks, before getting transferred to Chuncheon, Korea where he served as a bookkeeper for many years, until his discharge.

When the war was over, Phil returned to Great Falls to reunite with his sweetheart Joan. They were married 47 years until her sudden death in 1999. They did not have children, but continued working the ranch, running cattle and sheep. Phil left the ranch and started a hog operation in Vaughn, eventually raising chickens, selling their eggs to Super Save and Buttrey's. In 1965, Phil and Joan built a feedlot in Vaughn and started All Breeds Center (ABC) Bull Testing. In 1995, the feedlot was sold, but the two continued their Charolais Bull sales throughout the years.

After Joan's passing in 1999, Phil began seeing an old high school classmate, Myra Doherty Demopoulos. They remet at planning meetings for their fiftieth high school reunion. They eventually fell in love and joined homes, building what is known as, "Wunderbar" on Belt Creek. The two shared many happy years on the creek, enjoying the birds and other wildlife in their neighborhood, before moving into Great Falls. For 19 years, Myra and Phil loved to travel the world as much as they loved enjoying the beauty and peace of their own backyard. Phil was often busy gardening, but he was always ready to play a mean and sometimes contentious game of cribbage. Myra came with a ready-made family that Phil lovingly embraced. Together they loved 5 adult kids, and he became "Papa Phil" to 9 grandchildren and 4 great-grandchildren. Phil also loved his animals. Over his lifetime, he had 16 dogs or "pot lickers", often having three or more at one time.

Phil had a marvelous sense of humor, was honest, fair, courteous, beyond generous, and loved with all of his heart. He embodied the "old-time" cowboy where his handshake was his word.

Phil was preceded in death by his first wife, Joan (Morgan) Eidel; parents, Philip and Olive Eidel; brothers, Charles Eidel of Seeley Lake and Jack Eidel of Great Falls; sister, Dorothea (Bradley) of Miles City; nephew, Bill Eidel of Great Falls; and niece, Leota Henrichs of Miles City.

He is survived by his loving partner, Myra (Doherty) Demopoulos of Great Falls; his four-legged kids, Bonnie and Clyde; step-children, Steve (Maureen) Doherty of Lolo, Mike (Anne) Doherty of Spokane, Kathy (Mark) Doherty Sprattler of Billings, Tim (Leslie) Doherty of Missoula, and Mary (Mike) Doherty Lauffer of Spokane; 9 grandchildren and 4 great-grandchildren; close nieces, Barbara Eidel of Bozeman, Patti (Wiley Kendle) Ashmore of Great Falls, Marcia Eidel of Helena, Jan (Steve) Halbakken of Seattle, WA, and Colleen Eidel of Great Falls; nephews, Jay Eidel of Great Falls, Bob (Marie) Fontaine of Cody, WY, Mike (Maria) Bradley of Gretna, LA, Tom Eidel of Albany, OR; and many loving great nieces and nephews.

Visitation will be held from 6:00 to 8:00 p.m. on Friday, February 14, 2020, at Hillcrest Lawn Memorial Chapel. A funeral service will be held on Saturday, February 15, 2020, at 1:00 p.m. at Hillcrest Lawn Memorial Chapel. Burial will follow at Highland Cemetery.

Memorials are suggested to Humane Society of Cascade County (PO Box 1774, Great Falls, MT 59404); Peace Hospice of Montana (1101 26th St S, Great Falls, MT 59405); or to the charity of your choice.


Previous Events
Visitation
Hillcrest Lawn Memorial Chapel
1410 13th Street South
Great Falls, MT 59405
Funeral Service
Hillcrest Lawn Memorial Chapel
1410 13th Street South
Great Falls, MT 59405
Cemetery Details
Location
Highland Cemetery
Great Falls , MT 59405